Services
Sewer Replacement
Sewer Replacement Calgary
Pipe Bursting Trenchless Sewer Replacement
Fourwest Trenchless Water and Sewer Solutions LTD. offers trenchless pipe bursting as a proven method of replacement of failing horizontal pipes. Problems with underground pipes and drainage lines that benefit from the pipe bursting and replacement technique are built from materials such as Orangeburg pipe (tar paper pipe, "No corrode"), clay tile, and cast iron. Many other problems with these pipes are offset pipes, crowned and cracked pipes and root intrusions are all capable of causing system backups. Infiltration, exfiltration and inflow from rain are all concerns too as these issues are very difficult to treat as they can led to contaminated untreated sewage overflowing into nearby properties as well as into rivers, lakes and streams.
Replacement by conventional methods such as an open excavated trench is often not a cost effective or vaible alternative. Often structures and landscaping issues as well as other buried underground utilities can all play a part in determining your options to replace pipe.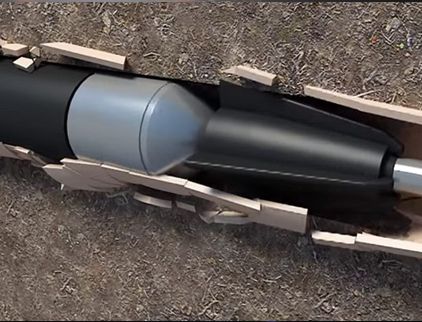 Pipe Bursting Advantages:
The High Density Polyethylene (HDPE) pipe we use has superior strength and durability. Ou pipe will never rust and the welded joints will not allow for the infiltration of roots.
Typically, our pipe bursting solution can be completed in only 1-2 days
Permanently repair cracked pipes and root obstructions
Completely repair older pipe materials such as no corrode tar paper and clay tile which are known to suddenly fail
No costly excavation equipment needed
We can pipe burst under trees, fences, sidewalks, and garages, minimizing digging and the possibility of damage your yard and to other utilities on your property
Increases property value
Contact Fourwest Trenchless Water and Sewer Solutions LTD. now to book your Inspection.
---
Our Water & Sewer Services